Large Capacity Industrial Plate Ice Machine/Plate ice plant for fishing Focusun Ice making machine
Product Description
#detail_decorate_root .magic-0{border-bottom-width:2px;border-bottom-style:solid;border-bottom-color:#53647a;background-color:#c5ccde;margin-left:0;margin-right:0;padding-left:8px;padding-right:8px;color:#53647a;font-family:Roboto;font-size:24px;padding-top:8px;padding-bottom:4px}#detail_decorate_root .magic-1{width:750px}#detail_decorate_root .magic-2{overflow:hidden;width:750px;height:475px;margin-top:0;margin-bottom:0;margin-left:0;margin-right:0}#detail_decorate_root .magic-3{margin-top:0;margin-left:0;width:750px;height:474.75px}#detail_decorate_root .magic-4{vertical-align:top}#detail_decorate_root .magic-5{padding:0;margin:0;color:#333;font-size:14px;white-space:pre-wrap}#detail_decorate_root .magic-6{padding:0;font-size:16px;line-height:20px;font-weight:bold;color:#333;margin:0}#detail_decorate_root .magic-7{vertical-align:top;display:block;padding-right:4px;box-sizing:border-box;padding-left:4px}#detail_decorate_root .magic-8{vertical-align:top;padding-bottom:4px;box-sizing:border-box;padding-top:4px}#detail_decorate_root .magic-9{padding:0;margin:0;white-space:pre-wrap;font-size:14px}#detail_decorate_root .magic-10{overflow:hidden;width:750px;height:422px;margin-top:0;margin-bottom:0;margin-left:0;margin-right:0}#detail_decorate_root .magic-11{margin-top:0;margin-left:0;width:750px;height:422.25px}#detail_decorate_root .magic-12{overflow:hidden;width:750px;height:500px;margin-top:0;margin-bottom:0;margin-left:0;margin-right:0}#detail_decorate_root .magic-13{margin-top:0;margin-left:0;width:750px;height:500.25px}#detail_decorate_root .magic-14{overflow:hidden;width:750px;height:1001px;margin-top:0;margin-bottom:0;margin-left:0;margin-right:0}#detail_decorate_root .magic-15{margin-top:0;margin-left:0;width:750px;height:1000.5px}#detail_decorate_root .magic-16{padding:0;font-size:16px;line-height:20px;font-weight:bold;margin:0}#detail_decorate_root .magic-17{overflow:hidden;width:373px;height:321.7250673854448px;margin-top:0;margin-bottom:0;margin-left:0;margin-right:0}#detail_decorate_root .magic-18{margin-top:-62.334231805929925px;margin-left:0;width:373px;height:497px}#detail_decorate_root .magic-19{overflow:hidden;width:373px;height:321.7250673854448px;margin-top:0;margin-bottom:0;margin-left:4px;margin-right:0}#detail_decorate_root .magic-20{margin-top:0;margin-left:-58.312668463611864px;width:482px;height:321px}#detail_decorate_root .magic-21{width:750px;border-collapse:collapse}#detail_decorate_root .magic-22{padding:5px 10px;overflow:hidden;width:164px;box-sizing:content-box}#detail_decorate_root .magic-23{padding:5px 10px;overflow:hidden;width:163px;box-sizing:content-box}#detail_decorate_root .magic-24{padding:5px 10px;overflow:hidden;width:165px;box-sizing:content-box}#detail_decorate_root .magic-25{padding:0;line-height:20px;font-weight:bold;margin:0}#detail_decorate_root .magic-26{overflow:hidden;width:750px;height:563px;margin-top:0;margin-bottom:0;margin-left:0;margin-right:0}#detail_decorate_root .magic-27{margin-top:0;margin-left:0;width:750px;height:562.5px}#detail_decorate_root .magic-28{overflow:hidden;width:184.5px;height:203.30578512396693px;margin-top:0;margin-bottom:0;margin-left:0;margin-right:0}#detail_decorate_root .magic-29{margin-top:-17.28099173553719px;margin-left:0;width:184px;height:241px}#detail_decorate_root .magic-30{overflow:hidden;width:184.5px;height:203.30578512396693px;margin-top:0;margin-bottom:0;margin-left:4px;margin-right:0}#detail_decorate_root .magic-31{margin-top:-12.198347107438016px;margin-left:0;width:184px;height:254px}#detail_decorate_root .magic-32{margin-top:-6.099173553719008px;margin-left:0;width:166px;height:242px}#detail_decorate_root .magic-33{margin-top:-17.28099173553719px;margin-left:0;width:166px;height:235px}#detail_decorate_root .magic-34{vertical-align:top;display:inline-block;padding-right:4px;width:50%;box-sizing:border-box;margin-bottom:-4px;padding-left:4px;margin-top:-4px}#detail_decorate_root .magic-35{vertical-align:top;box-sizing:border-box;padding-top:4px}#detail_decorate_root .magic-36{width:371px;height:200px;overflow:hidden}#detail_decorate_root .magic-37{position:relative;left:0;top:-47px;width:371px;height:247.457px}#detail_decorate_root .magic-38{margin:0;padding:0}#detail_decorate_root .magic-39{position:relative;left:0;top:-53px;width:371px;height:278.25px}#detail_decorate_root .magic-40{vertical-align:top;display:inline-block;padding-right:4px;width:33.33%;box-sizing:border-box;margin-bottom:-4px;padding-left:4px;margin-top:-4px}#detail_decorate_root .magic-41{width:244.656px;height:234px;overflow:hidden}#detail_decorate_root .magic-42{position:relative;left:-63px;top:0;width:350.825px;height:234px}#detail_decorate_root .magic-43{position:relative;left:-28px;top:0;width:315.9px;height:210.6px}#detail_decorate_root .magic-44{position:relative;left:-46px;top:0;width:350.825px;height:234px} Company Information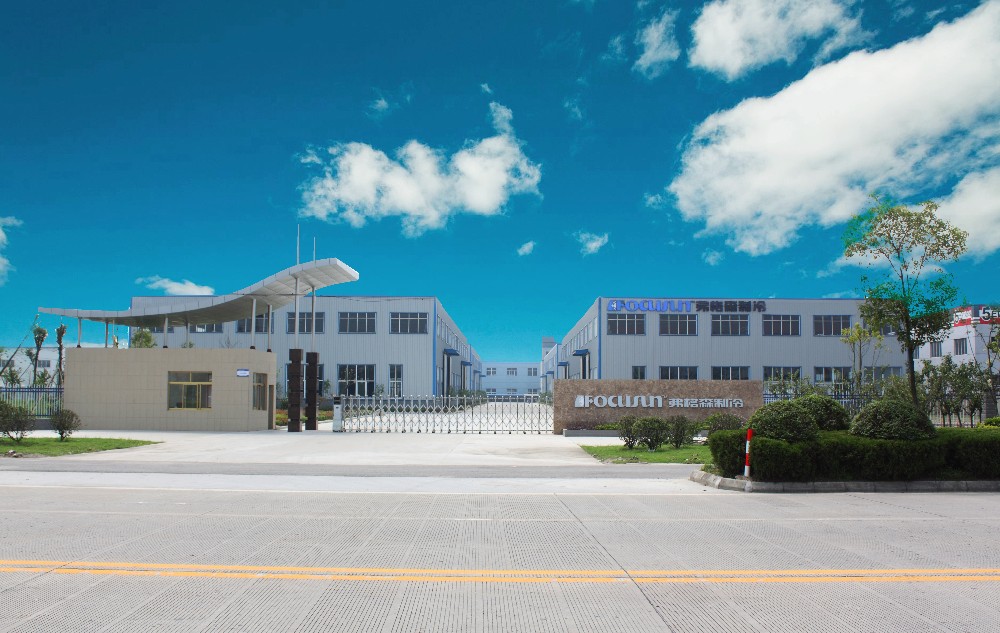 FOCUSUN---Cooling Technical Master   Since 1929, Germany As one of the most professional ice machine manufacturers in the world, Focusun always develops high refrigeration technology with innovation. Our R&D center is located in Jiangsu Province, China, with more than 35,000 square meters of standardized modern factory and advanced product testing platform. We mainly design and manufacture
Tube Ice Machine
,
Block Ice Machine
,
Flake ice machine
,
Cube Ice Machine
,
Plate Ice Machine
,
Water chiller
,
Concrete cooling system
, automatic ice storage system, dynamic ice storage system and all kinds of cold rooms. Over a decade, we have provided quality service to more than 16,000 professional clients in 88 countries around the world.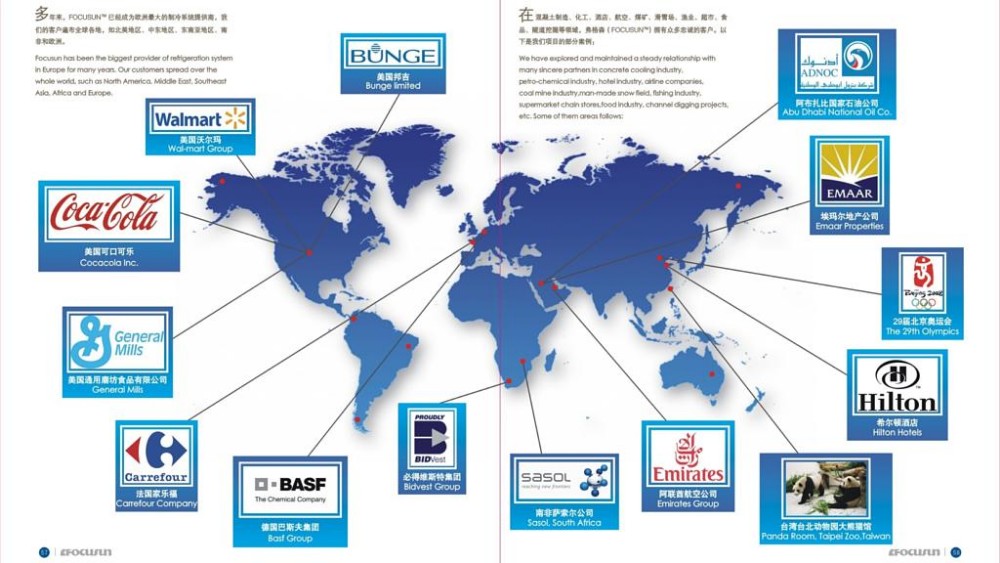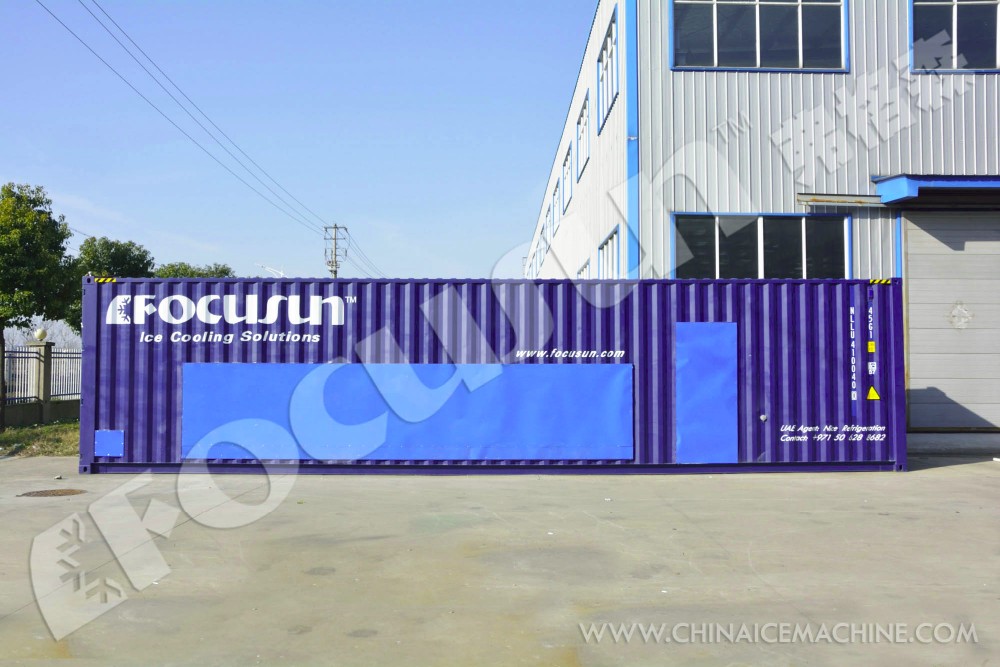 Product Description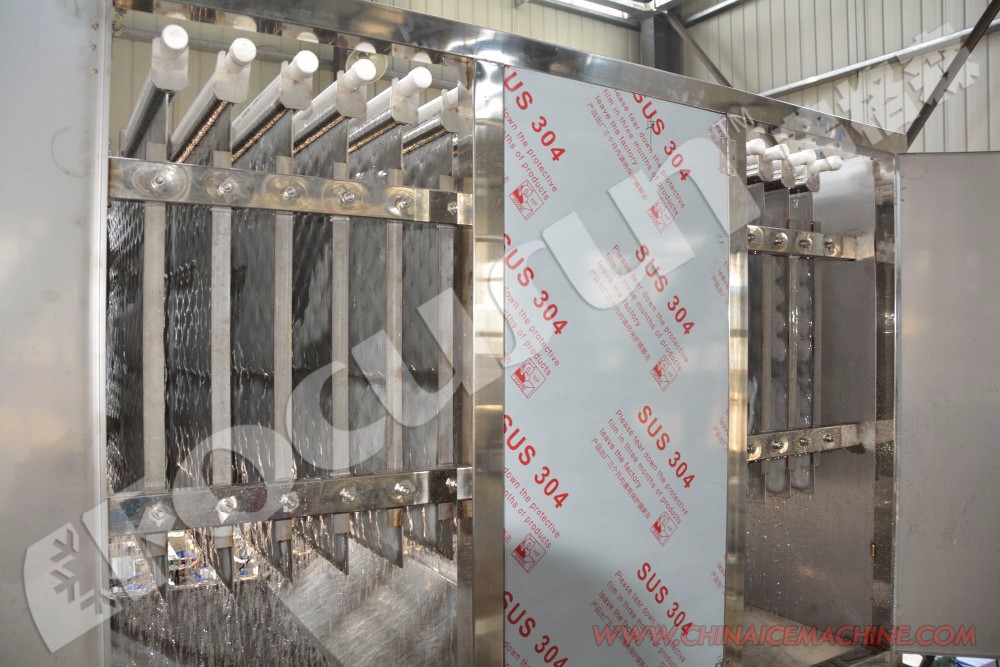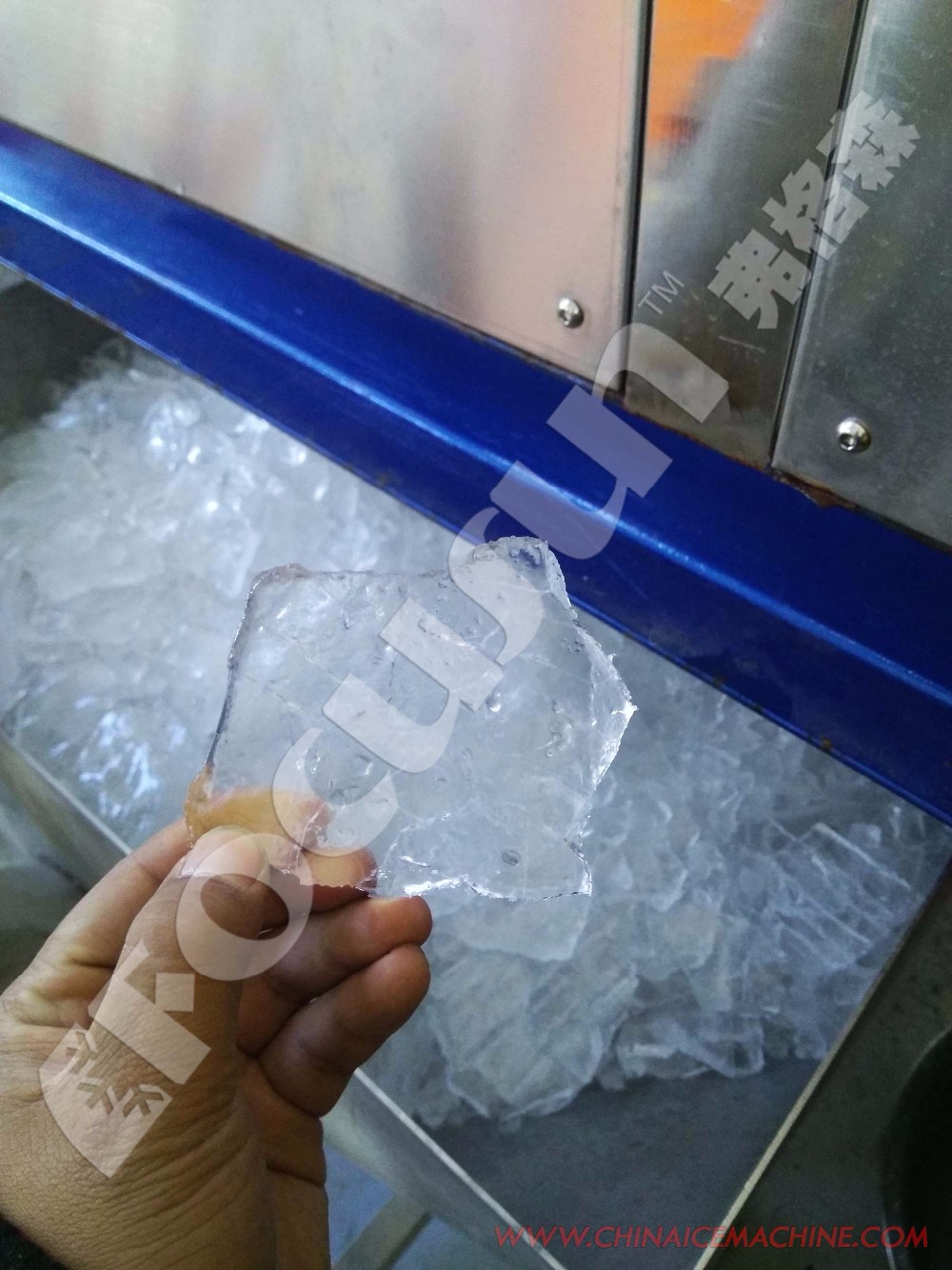 Product Application FOCUSUN Plate ice machine with R404A SYSTEM
Features of plate ice :
Thickness 4-30mm, size (20cm-40cm)X(30cm 50cm), transparent, dry and hard ice block with irregular shape.
High density, small surface area and good cool storage effect.
Even cooling effect, good ventilation performance, and constant refrigerating temperature,
suitable for refrigeration of aquatic products.
Advantages:
If the ice storage is full,the plate ice machine will switch automatically into the water tank control mode to make sure the cold water inside the cold water tank always be at the set level. If the ice level inside the ice storage is again going down, the ice plate machine will switch again automatically ino the ice makin mode. During perids in which the plate ice plant is not producing, the plant automatically controls the water temperatue of the cold water using the recrcuation mode.
Application fields: Plate ice is usually used for ice storage systems and is also applied to concrete mixing plants, chemical plants, mines, fresh vegetables, fishing and aquatic insulations.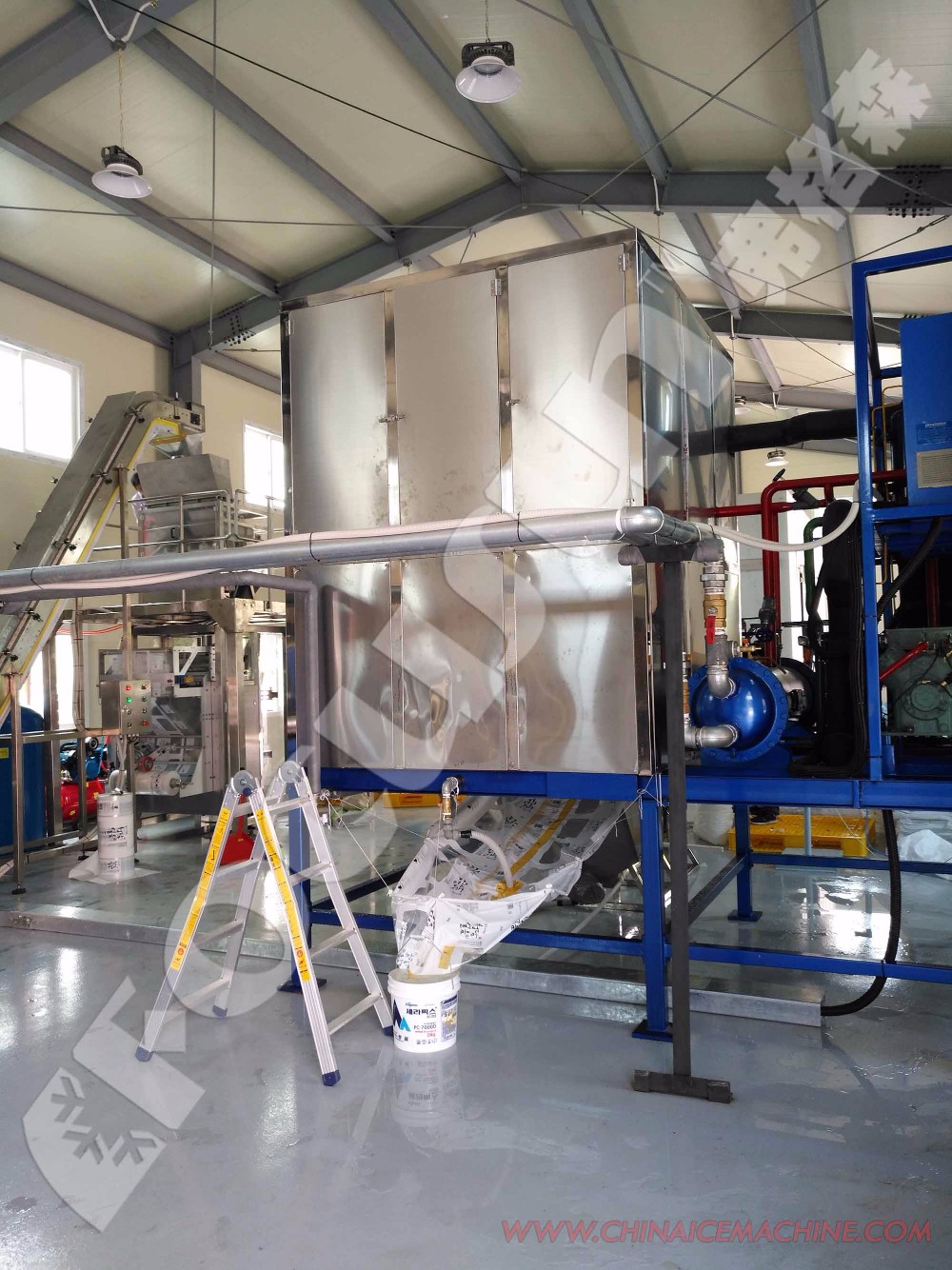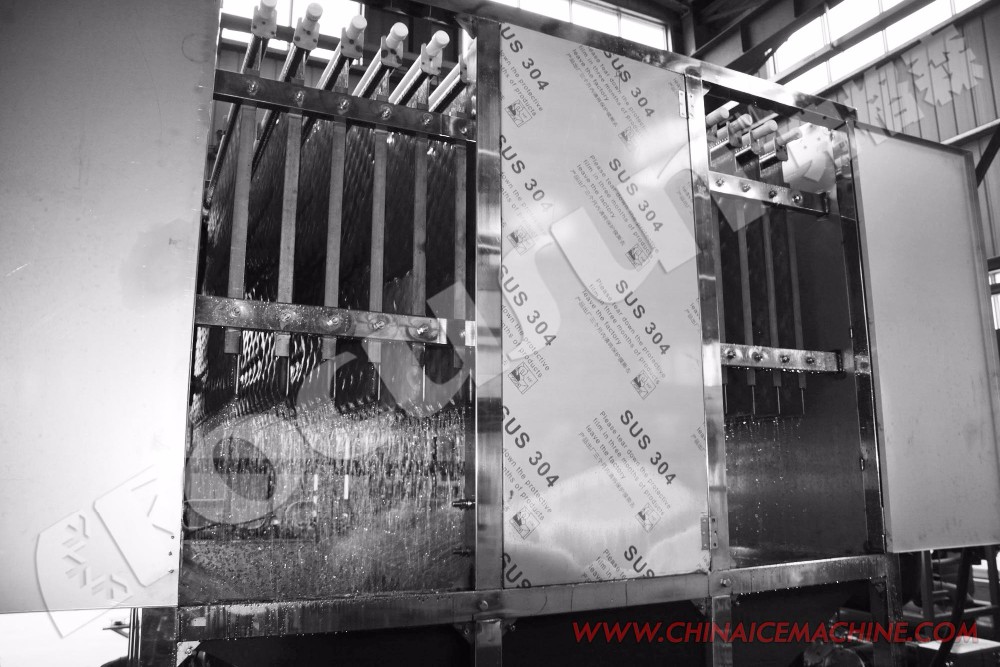 | | | | |
| --- | --- | --- | --- |
| Models | Capacity | Electricity consumption | Dimension(mm) |
| FIP-10 | 1ton/day | 6.69kw.h | 1700×1200×1700 |
| FIP-20 | 2ton/day | 9.92kw.h | 2200×1600×2000 |
| FIP-30 | 3ton/day | 14.4kw.h | 2200×1500×2000 |
| FIP-50 | 5ton/day | 25.15kw.h | 2000×1800×2200 |
| FIP-100 | 10tons/day | 39.07kw.h | 2200×1900×2200 |
| FIP-150 | 15tons/day | 56.35kw.h | 2200×2100×2200 |
| FIP-200 | 20ton/day | 84.00kw.h | 3800×2200×2450 |
| FIP-240 | 24ton/day | 100.1kw.h | 4500×2200×2450 |
| FIP-320 | 32ton/day | 124kw.h | 3200×2200×2450 |
| FIP-120 | 12ton/day | 44.47kw.h | 2200×1900×2200 |
| FIP-400 | 40ton/day | 154.7kw.h | 3800×2200×2450 |
| FIP-480 | 48ton/day | 189.1kw.h | 3200×2200×2450 |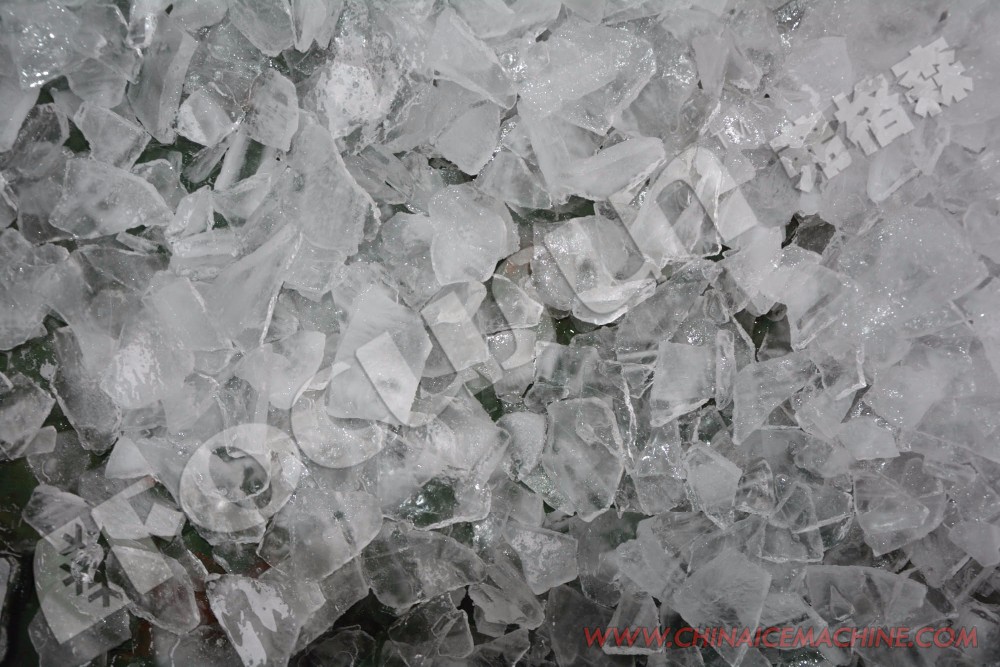 Plate ice introduction:
Plate ice is a kind of irregular sheet ice with about 40×40mm~80×80mm in size, and 10 mm~15mm in thickness. The thickness can be adjusted according to ice-making time with the maximum gauge being 25mm. Plate ice is a kind of thick and transparent ice which has good air permeability and a long shelf life. Small capacity from 1tons to 10tons day offered.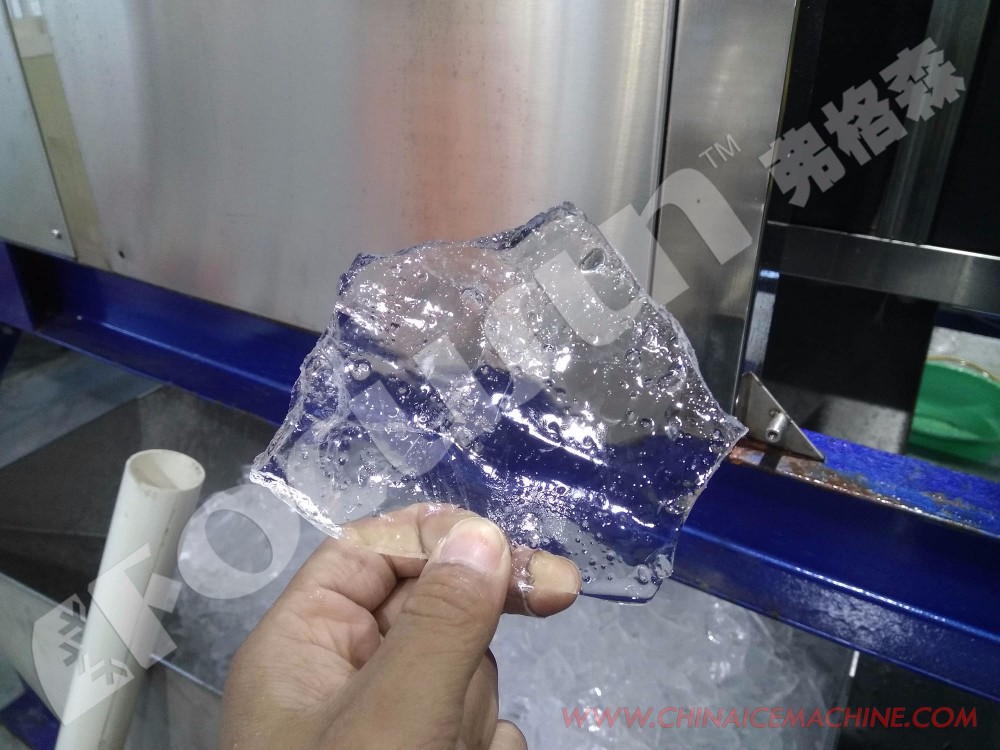 Certifications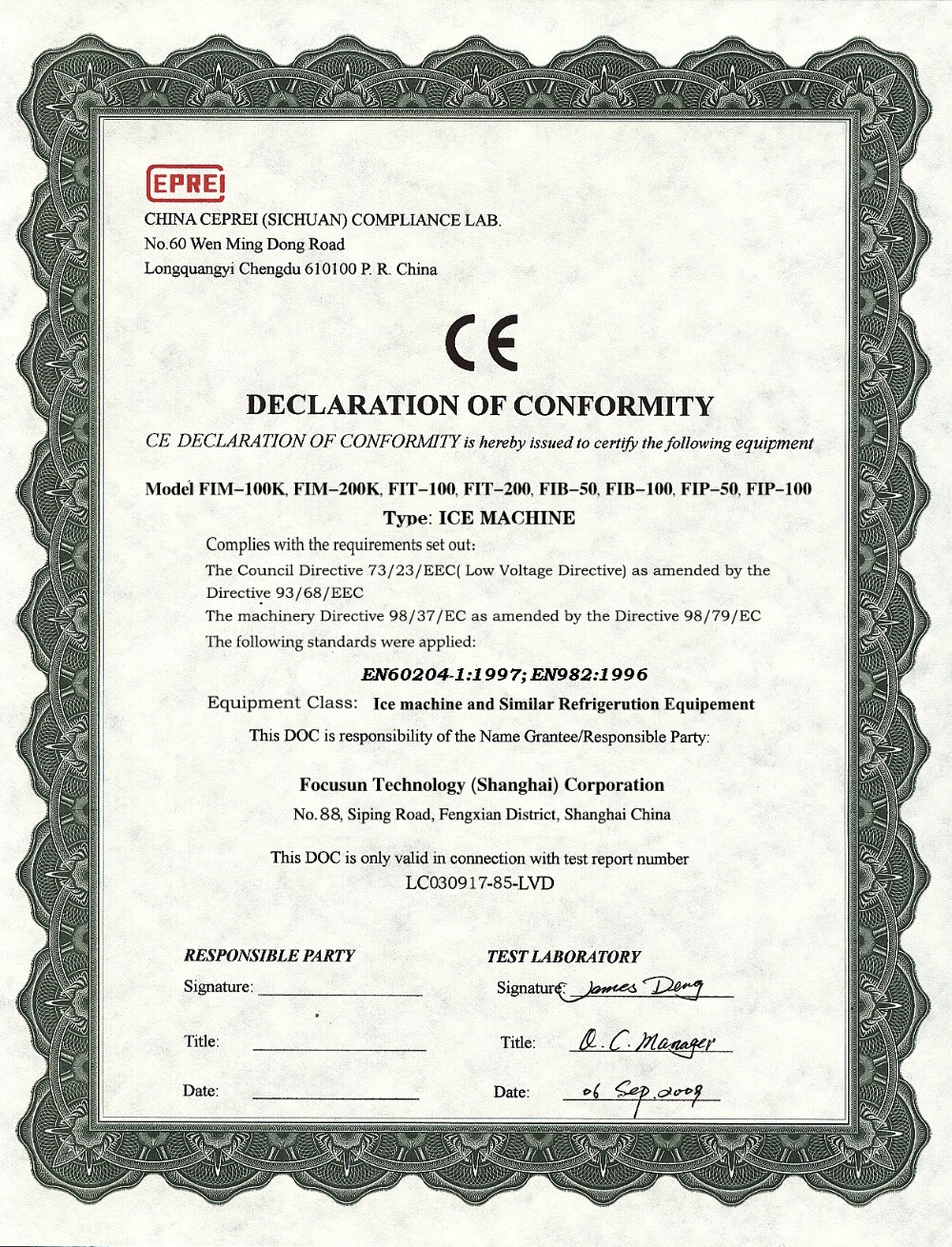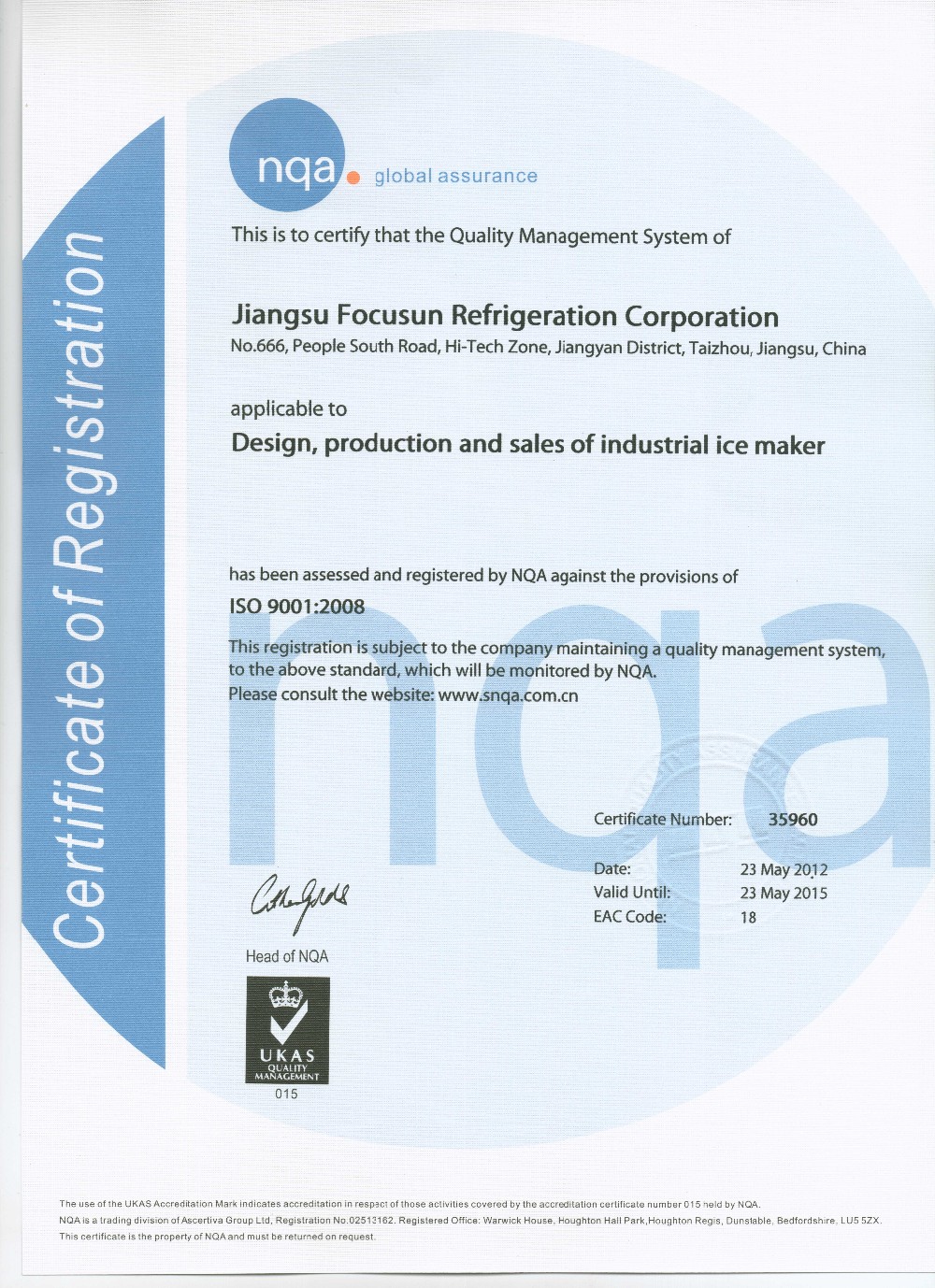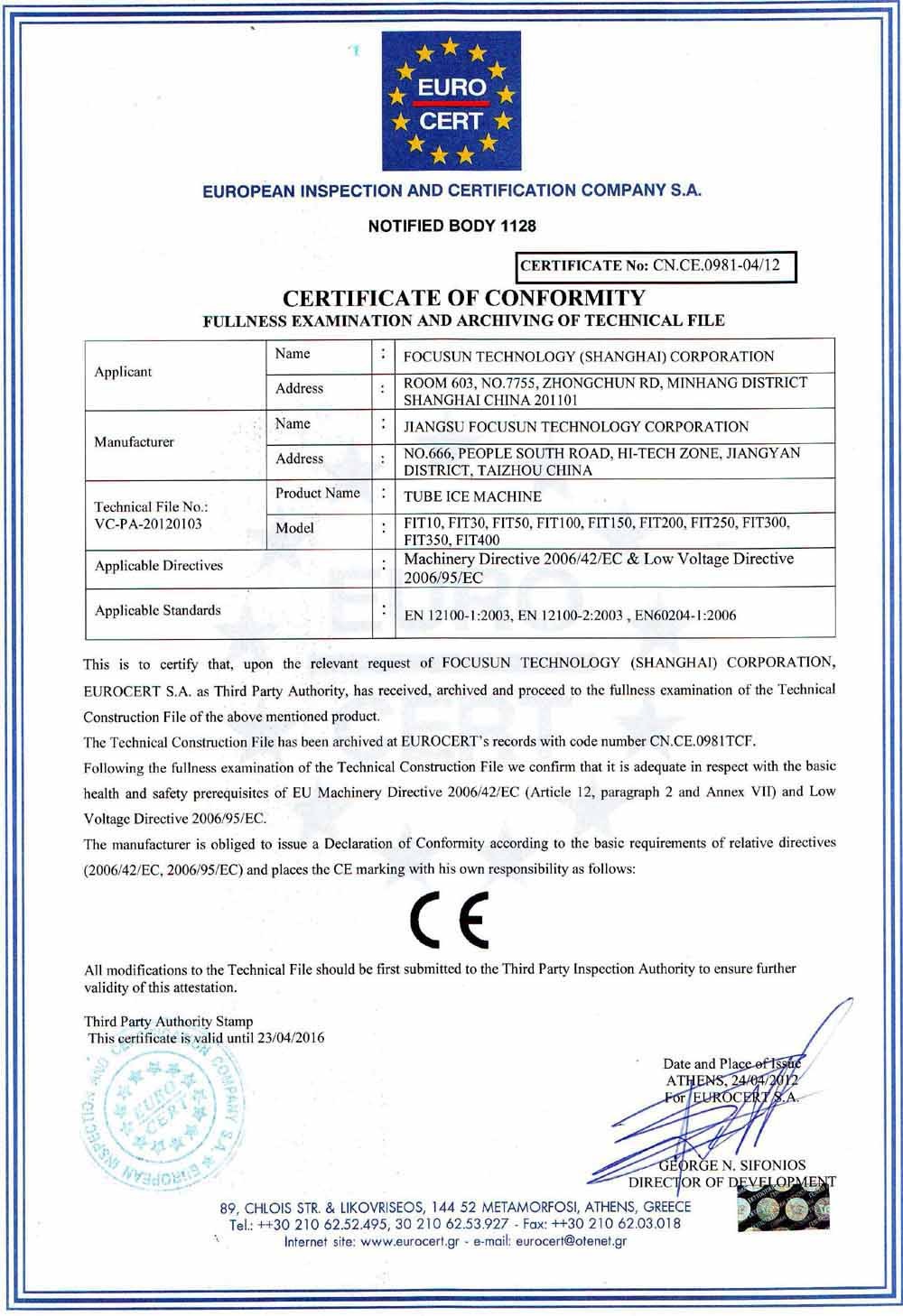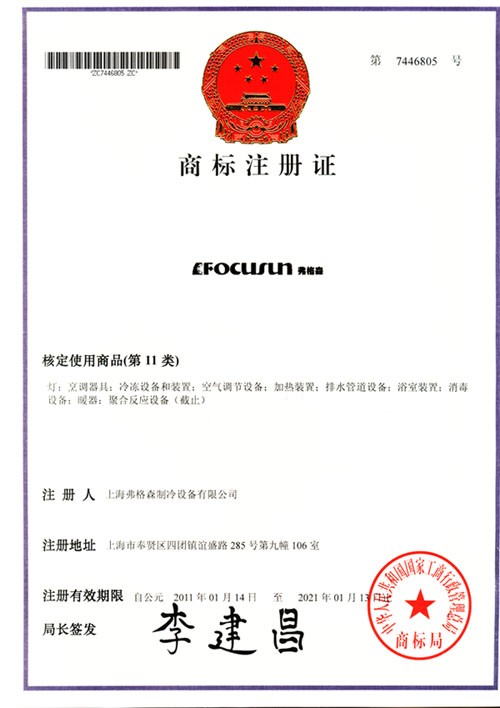 Our Service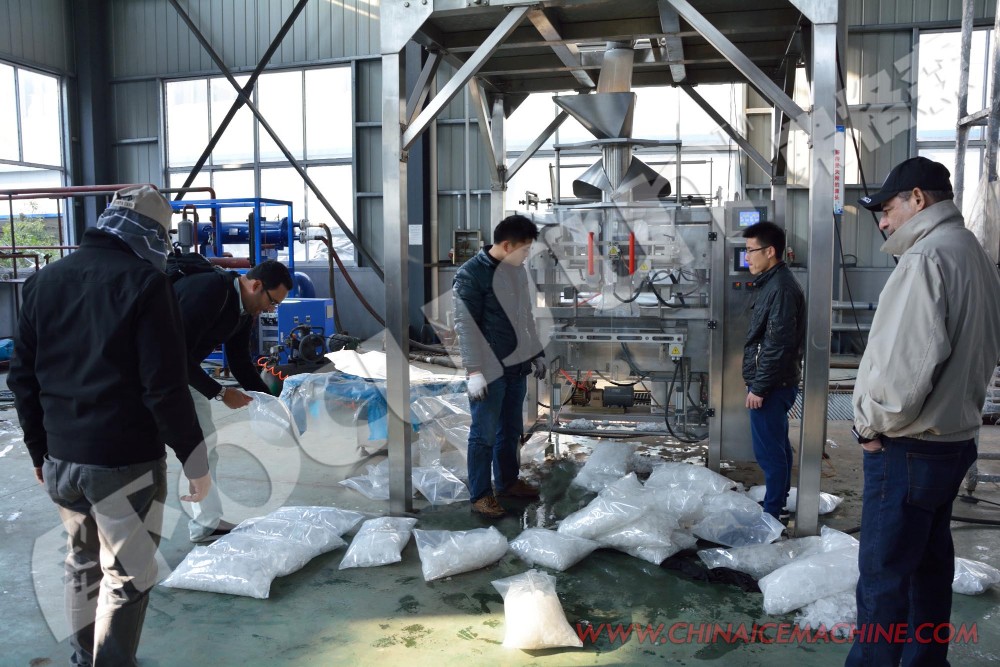 Pre-Sales Service * Inquiry and consulting support.  * Sample testing support.  * View our Factory.
If you are considering to purchase an ice machine, or you are just want to know information about the  ice machine and prepare your business for future, please feel free to contact Focusun sales team.
We are very interested to have your inquiry and looking forward to give our best supports.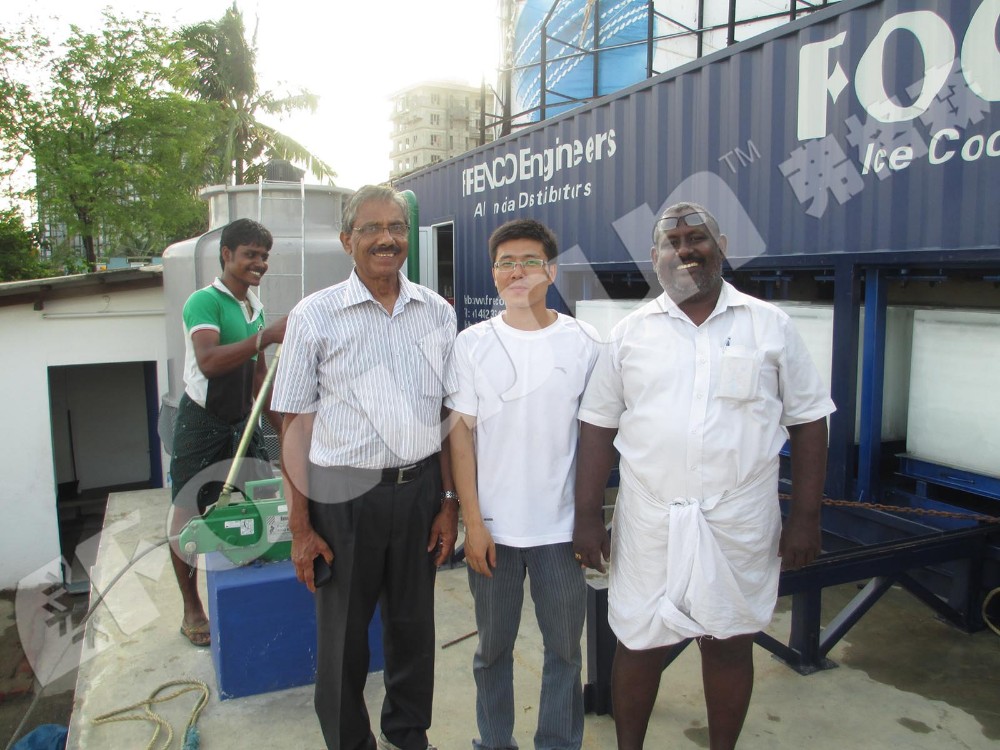 After-Sales Service
* Training how to instal the machine, training how to use the machine.  * Engineers available to service machinery overseas. Related Products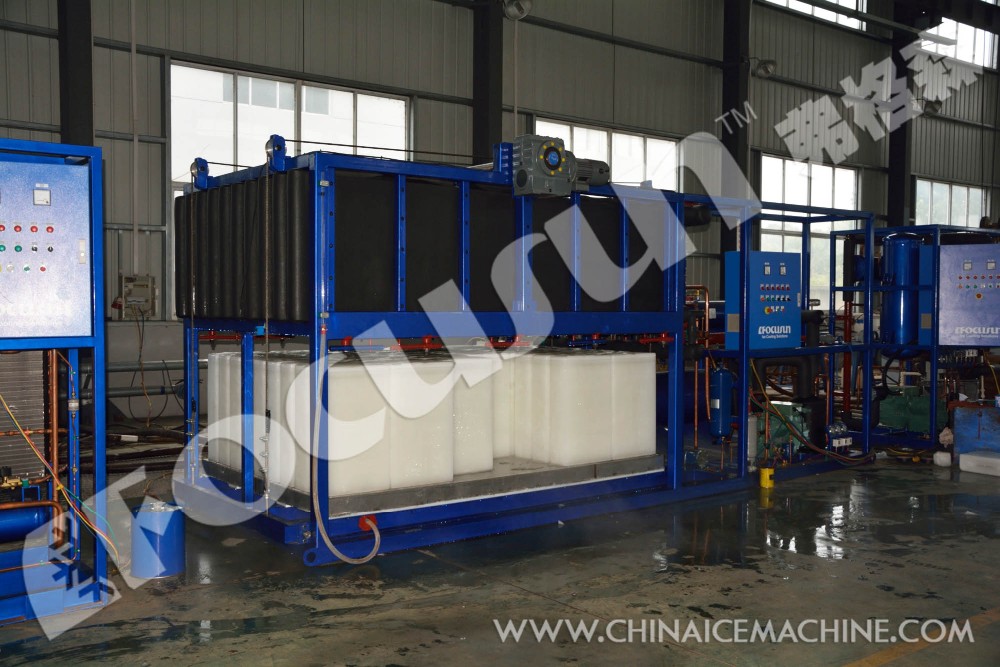 Block Ice Machine 91.8% Response Rate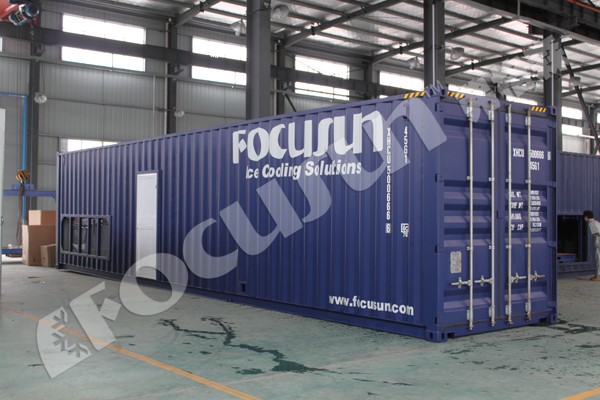 Containerized flake ice machine
91.8% Response Rate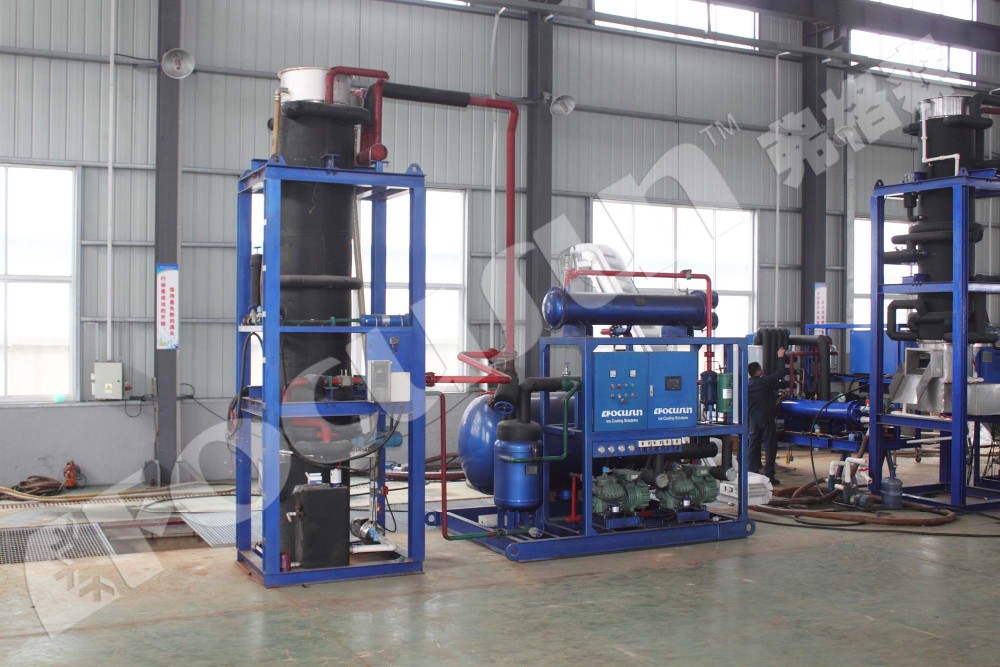 Tube Ice Machine 91.8% Response Rate Contact us if you need more details on plate ice machine. We are ready to answer your questions on packaging, logistics, certification or any other aspects about plate ice plant、plate ice making machine. If these products fail to match your need, please contact us and we would like to provide relevant information.
Product Categories : Plate Ice Machine